By car to Croatia: the latest information on how to save on your trip
It's not your first trip to Croatia, but you may not have known about the alternatives, exact times and opportunities to save money along the way. Or do you not have an overview of the current price of vignettes and how they are processed in each country? How does tolling work in Croatia? Here is up-to-date and accurate information.
CROATIA AND COVID NEWS:
https://covid.gov.cz/situace/cestovani
Itineraries by departure and destination
Prague → Split
The most logical way is Prague – Brno – Vienna – Graz – Maribor – Zagreb – Split.
The route does not include toll tunnels.
Prague-Split: 1 091 km, 11 h 30 min + breaks.
It is possible to avoid part of D1 by leaving it by taking the exit to Jihlava and then via Znojmo to Vienna. Another option is to go directly to České Budějovice – Linz – Wels – Graz and on and on. The route is only about 30 km longer, on the other side you will encounter 2 toll tunnels, which will cost about 15 € in total.
Prague → Istria
You can reach the west of Croatia Prague – České Budějovice – Salzburg – Villach – Ljubljana – Istria. The downside is again the pay tunnels, together for 20€.
Prague – Istria: 801 km, 9 h 30 min + breaks.
Eastern route via Hungary
Whether you are coming from Prague or Ostrava, it is worth trying one more popular route. It runs from Brno through Slovakia and Hungary and its advantage is smooth ride and the fact that in Hungary you can avoid toll roads. Just set your GPS to avoid motorways at the Slovak-Hungarian border and you can easily drive through the whole of Hungary.
Prague – Brno – Bratislava – Mosonmagyaróvár – Szombathely – Varaždin – Zagreb – Split. The kilometres are the same, the time is an hour and a bit longer. Prague – Split: 1 085 km, 12 h 45 min + breaks. The main issue is that Slovenian and Austrian vignettes are much more expensive. This way you can save up to around 1 700 CZK!
Here you can find the current price diesel a gasoline .
Don't forget to leave a note before your trip check and refill your car's air conditioning . Naturally, the fluid from the air conditioner gradually leaks out, reducing the cooling performance. On a long drive on a hot motorway, you'll appreciate it when the cooling works as it should.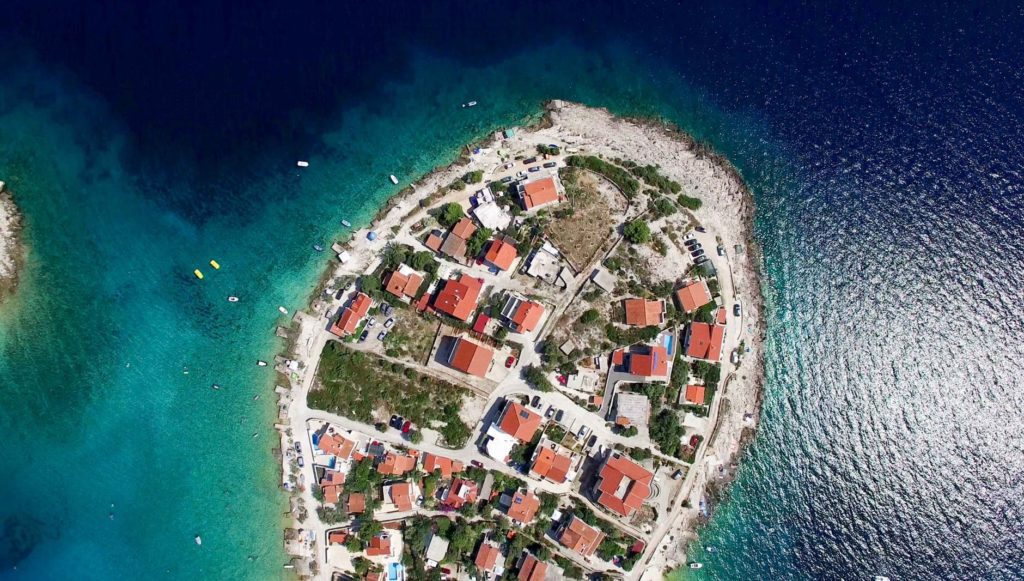 Motorway stamps and tolls
For an up-to-date overview of the fees and options, see our article: tolls in European countries.
Croatia
Like much of the southern states, Croatia operates on the basis of toll gates . You only pay for the distance travelled by picking up a ticket when you enter the motorway and paying the amount travelled when you leave (cash, card or ENC – electronic box with prepaid credit. Each payment method has its own dedicated lanes). The route from the border to Zagreb costs 200 CZK and from Zagreb onwards, depending on the distance, from 240 CZK (Rijeka is the nearest town on the coast) to 980 CZK, or to the end of the highway in the south at Ploče. Among them are Zadar (460 CZK), Sibenik (580 CZK), Split (680 CZK) and Makarska (750 CZK).
How much the trip will cost you depends on the route you choose and the destination location, so it's hard to say "how much it costs on average". So let us rather calculate the main amounts:
petrol will cost you up to 3 000 CZK on the shortest possible way to the sea Brno-Rijeka and back (35 CZK, 7 l consumption)
on the longest route Prague-Dubrovnik for 6 000 CZK
via Austria and Slovenia, the motorway tolls for a 10-day holiday cost about CZK 1,050 (for a longer holiday it is double that amount).
In contrast, the route through Slovakia and Hungary is very economical – if you buy a 10-day Slovak stamp, you will spend only about 260 CZK. If you buy both monthly stamps, you will pay a maximum of CZK 770.
Prepare for the toll in Croatia for about 820-2,300 CZK depending on the distance you drive.